Fall Focus Friday: Psychoanalytic Dream Interpretation
(Members Only)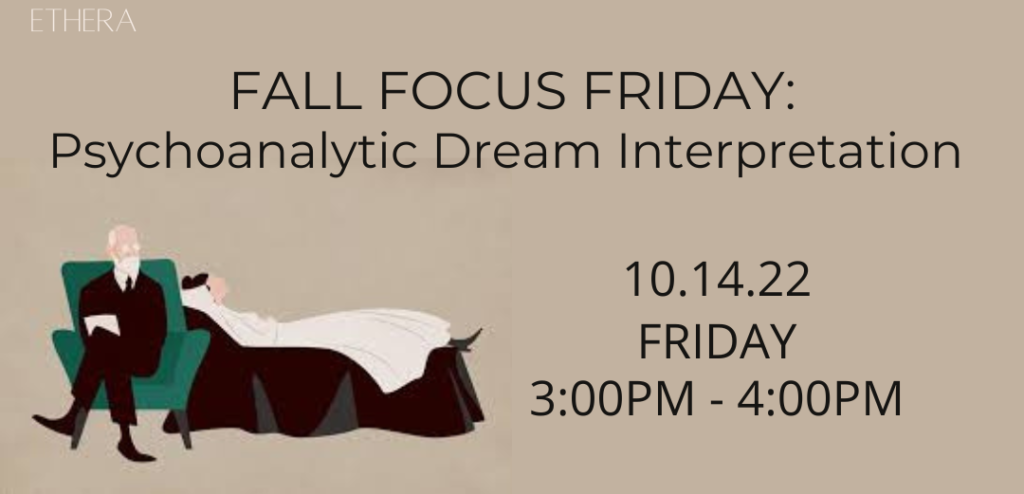 Date and Time
Fri, October 14, 2022
3:00 PM – 4:00 PM PDT
Location
Ethera
19712 Macarthur Blvd., Ste. 110, Irvine, CA 92612
About this Event
Dr. Debbie Kirschbaum, a psychologist and psychoanalyst, is giving a dream interpretation consultation. Participants will learn about Freudian dream interpretation and also Gestalt dream interpretation. Participants will be able to bring in dream material from their clients so that you can begin learning how to work with that material and weave it into deepening your client's awareness of hopes and fears as well as how to get at their personal dream symbolism. Debbie will also bring in material from her practice to help highlight the meaningfulness of dream material. If participants would like to share their own dreams, we will do so, understanding that material may be revealed that is personal and may be uncovered unexpectedly.
Ethera will provide snacks! =)
Our group will meet in The Yalom
Cancellation Policy: Please let us know 24 hours in advance if you need to cancel. Simply go to "Tickets," select your order and choose "Cancel Order". Thank you!